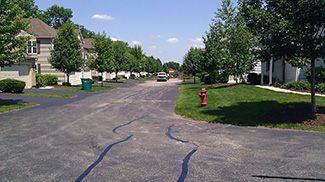 Before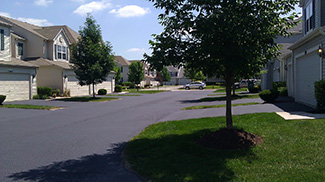 After
When it comes to asphalt—no matter the job or the scope of the project—there's no better name in the industry for service than Rich Sealcoating Inc. We're proud to provide residential, commercial and even industrial customers with a wide range of encompassing services, all designed to leave you with asphalt that's both aesthetically pleasing and resiliently durable. Some of our core services include:
---
Asphalt paving and removal: Whether you're paving a brand new parking lot, busting up an old asphalt driveway or working to blend new and old asphalt surfaces, we're able to provide you with the critical results you need in regards to both paving and asphalt removal.
---
Parking lot design and construction: We have a depth of experience in working with commercial establishments to design the ideal parking lot for their needs, then paving and striping that lot to perfection.
---
Parking lot asphalt striping: Our team understands all facets of parking lot asphalt striping, from ADA compliance to space allotment and beyond. We work to make sure every stripe is perfect, to ensure the functionality of your lot.
---
Asphalt repair and resurfacing: Potholes, cracks, crevices and other blemishes to your asphalt are no match for our careful team of experts. We'll assess the scope of damage and provide asphalt repairs that are seamlessly integrated into your asphalt's surrounding façade.
---
Speed bump and wheel stop installations: Need to control traffic better or provide speed determent in a particular area? We're able to assist you in the placement of speed bumps and wheel stops, to encourage safer interaction in parking lots or private driveways.
---
Sealcoating
Parking lot or driveway sealcoating in Steger, IL is one of the best investments you can make for your surface. Why? Because it'll take abuse and weathering each and every day. From damaging UV rays, to surface stains, to elemental abuse, your asphalt is going to bear the brunt of its environment from the moment it's laid.
Sealcoating your asphalt means giving it a fighting chance to stand up to the many detractors around it! Driveway sealcoating closes the natural pores of asphalt to protect it from degradation, while also giving it a satin finish that's both aesthetically pleasing and resilient. The result is asphalt that lasts longer, stands stronger and weathers better.
Snow removal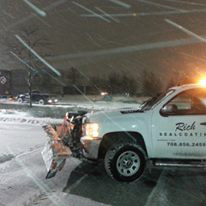 When the Midwest winters roll in and dump mountains of snow on your asphalt, make sure you're calling the professionals at Rich Sealcoating Inc. to assist you with timely and effective snow removal. We understand that unforeseen snowfalls, heavy snow and dangerous weather conditions can present problems for your home or business, which is why we work to quickly resolve them, to get your surfaces clean and clear once again.
For quotes on snow removal in Steger, Cook County, Chicago Heights, Crete, or Matterson, IL or to inquire about our capabilities as they pertain to your unique needs, please contact us today.